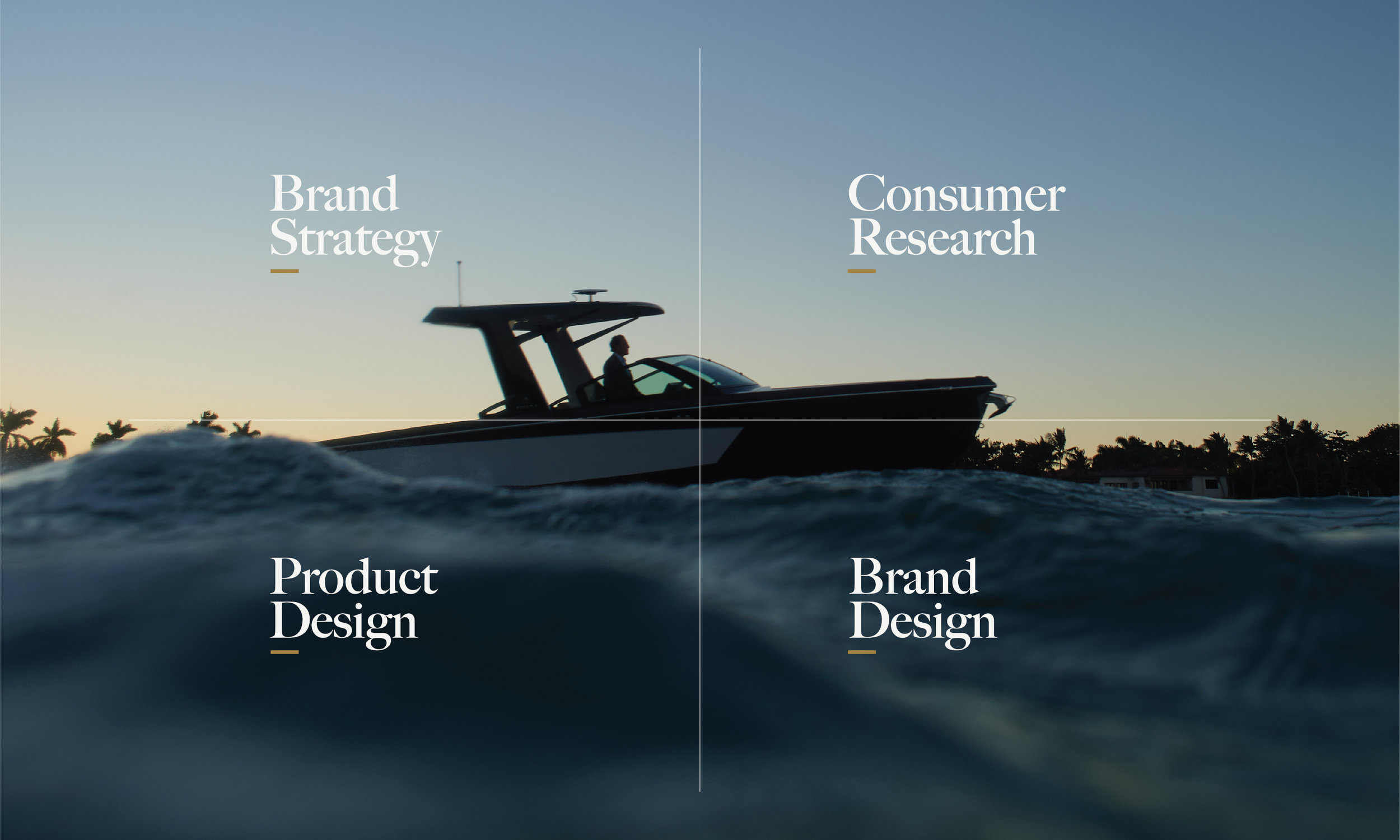 Luxury boating suffers from a specific kind of inertia—it's stuck in the past, too focused on tradition and history and thus bound by what came before. Nemo teamed up with longtime partner MasterCraft Boats to grab the wheel and go forward into uncharted waters. The result: Aviara, a new and boldly progressive luxury day boat brand.


The ask was a start-to-finish brand and product development opportunity. We launched with comprehensive consumer research, connecting with a broad range of high-end boat lovers.
The data shed light on Aviara's strategic consumer target: the luxury boater who craves total control, who demands excellence in all forms—from style to performance to comfort, fit and finish—and who seeks pride of ownership out on the water.


We teamed up with Aviara engineers on product design, product pillars and CMF, crafting the brand's debut boat from the bottom up. Inspired by the considered design of European boats and the inviting open layout of American boats, the 32-foot Aviara AV32 features a progressive hardtop style that looks like nothing else on the water. With its devotion to excellence in fit, finish and function, this new modern day boat is built to create the elevated escape our consumer craves.


Informed by consumer research, Nemo built a solid brand strategy foundation. We then created an identity based on "progressive luxury"—our new, forward-looking notion of the premium boating experience. Breaking away from the standard white sand and palm trees, the brand narrative draws on drama and mystery to evoke the consumer's ritual induction into a world of style and flawless experience. This narrative of premium mystique rolled out in logo development, brand guidelines and a launch campaign.



As the Aviara factory charged forward on a fleet of AV32s, Nemo got busy with a tease campaign, showcasing the boat model in high-detail renderings that nodded to the mystery of our brand-launch aesthetic. When the demo AV32s hit the water, we were ready with storyboards, scripts, cast and camera to capture the boat in its element—stunning places, perfect accoutrements and incredible moments. The tease campaign focused on the boat's beautiful lines and signature elements, but the launch campaign invited our audience on board to experience escape the Aviara way.


The vision of this partnership was to create a craft that defies compromise and give forward-thinking boaters what they've wanted—style, control and luxury on their own terms. The 32-foot Aviara AV32 debuted at the February '19 Miami Boat Show, earning celebration and press (including a highlight in USA Today), but the first consumer models have yet to hit showrooms, private docks and glistening bays. Stay tuned to see how this new boat and brand redefine the world of luxury boating.